Comprehensive Dentistry in Somers, NY
As your Somers, NY dental care experts, we believe in providing our patients with high-quality, comprehensive care. The health of your mouth is strongly linked to your body's overall health, so we work hard to keep you, your smile, and your body healthy. We offer our patients preventive, restorative, and cosmetic treatments to keep their mouths in tip-top shape.

Preventive Care
The best way to get and maintain a beautiful smile is with quality preventive care. Visiting our office for regular exams allows us to diagnose and treat potential problems before they become big or painful issues.
Routine Exams & Cleanings
We recommend patients see us approximately every 6 months for a routine exam and cleaning. Our team will take necessary X-rays, and Dr. Gianna Ferranti, DDS will meet with you to discuss any concerns. After the exam, a hygienist will thoroughly clean and polish your teeth.
Oral Cancer Screenings
During your exam, your hygienist will do an oral cancer screening by looking at your lips, gums, jaw, and neck for any signs of cancer. Nearly 42,000 Americans each year are affected by oral and throat cancers, and early detection is key to a successful treatment plan.
Fluoride Treatments
To help make teeth more resistant to acids in the mouth caused by plaque, we recommend fluoride treatments to patients of all ages.
Sealants
Protective sealants guard teeth against decay. They are typically applied to children's molars and premolars shortly after they erupt.
Nightguards & Mouthguards
Grinding your teeth at night causes a number of health issues, including headaches and damage to teeth. Somers Smiles can fit you with a custom-made nightguard to help protect your teeth and prevent clenching and grinding.
For people who play contact sports, custom-made athletic mouthguards are a great way to protect your teeth and jaw from trauma, including cracked, broken, and even missing teeth.
We want to take care of your smile, so call today to schedule an appointment at our convenient Somers dental office.

Restorative Care
There are times when our smiles need a little extra TLC to get back to beautiful. Dr. Gianna Ferranti, DDS, your dentist in Somers, is trained in a number of restorative procedures, so let her help you get back to your best smile.
Crowns & Bridges
If you have broken or cracked teeth, or if a large filling has caused a tooth to become misshapen, crowns can help get your teeth back to normal. Crowns are tooth-colored caps that are placed on top of damaged teeth to protect them and give them strength to guard against future damage. Dr. Gianna Ferranti, DDS and our team are careful in the molding, prepping, and placing of your crown, so you're sure to get a comfortable, natural fit.
If you're missing multiple teeth in a row, we can connect a dental bridge to crowns on either side of the missing teeth to "bridge" the gap. A bridge is a more comfortable solution to missing teeth compared to dentures.
Dentures
If you need to replace many teeth, up to an entire arch, dentures are a great solution. The materials used in today's dentures allow for comfort, as well as natural function. Dentures also help to maintain the shape of your lips and face when teeth are missing.
Implant Restorations
Dental implants replace missing teeth using a small titanium post placed into the jawbone. Because of its biocompatible properties, the post fuses with the jawbone to provide a sturdy anchor for a restoration.
Once you've had an implant placed, visit our Somers, NY dental team for a restoration. We can place crowns and bridges on top of implants, and even fit you with implant-supported dentures that fit great and don't slip.
Root Canal Therapy
Pain from an infected tooth can be excruciating and even unbearable. Root canal therapy can help relieve your pain and save your natural tooth. If he determines you need a root canal, Dr. Gianna Ferranti, DDS will walk you through the procedure and talk with you about your sedation options.
During the root canal therapy, Dr. Gianna Ferranti, DDS and our team will remove the infected pulp from the tooth, and then fill and seal the inside of the tooth, effectively protecting it from future infections. Finally, we'll place a restoration — typically a crown — on top of the tooth to add strength and even more protection.
Tooth-Colored Fillings
When you experience decay and have a cavity, your Somers dentist uses tooth-colored materials to fill the cavity and stop the decay. These tooth-colored fillings are smaller than traditional silver fillings, so they require less prep work. They also leave behind more of the healthy tooth structure, preserving more of your natural tooth.
Let us give your smile a second chance. Contact us now to schedule your restorative consultation.
Digital Technology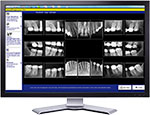 At Somers Smiles, we believe in using advanced technology to help make your visit to our Somers dental office fast, effective, and efficient. Our intraoral camera is an excellent patient education tool that not only helps us see into hidden areas of your mouth, but also allows us to walk you through your diagnosis and treatment plan.
We also utilize digital X-rays and digital panoramic X-rays. Digital X-rays offer a number of benefits over traditional X-rays.
They don't use sharp and uncomfortable X-ray film.
All patients, including pregnant women, can safely have digital X-rays taken.
Up to 90% less radiation is emitted.
Because they don't require chemical processing, images are available immediately.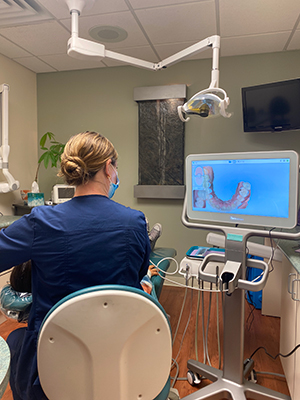 What is an iTero Intraoral Scanner?
iTero Intraoral Scanner is a touch-enabled scanner that gives a more accurate view of your mouth, gums, teeth, and all other oral structures. The best part about using this device is that it makes it easier to create digital impressions for Invisalign® and other procedures. The entire process is also comfortable and pain-free.
What Are the Benefits?
There are many advantages of using the iTero Scanner. This scanner is quicker, cleaner, and more accurate than traditional impressions. This means patients will experience less time in the chair and receive accurate diagnoses.
Since the impressions are completely digital, there is a smaller chance of missing out on potential issues, and the turnaround time from labs is much faster. The iTero scanner makes no space for errors; it helps dentists to create natural-looking bridges, veneers, crowns, nightguards, and other restorations. 3D iTero scanning also makes it easier to view the effects of a treatment even before you have it. Ever wonder what the dentist sees when they look in your mouth? A simple scan with the iTero allows patients to actually see old fillings, fractures, wear from grinding, and a whole lot more. Seeing is believing, and it helps us communicate treatment.
Traditional impressions require multiple attempts to get the right impression. With iTero, the process of scanning can be stopped and started as many times as needed to ensure the patient's comfort. iTero eliminates the need for traditional impressions and can shorten your visit time in the office. It minimizes the discomfort that comes with holding a tray for several minutes as well.
See how our digital technology can help your smile; call today for an appointment!

Pediatric Care
Dr. Gianna Ferranti, DDS loves taking care of kids' smiles. Our team understands the importance of positive early dental experiences in shaping good oral hygiene habits later in life, so we go above and beyond to help your children feel comfortable in our care. We not only use kid-friendly language to ensure kids understand what's going on in their mouths; we also offer amenities kids will love, including interactive treatment session, and great prizes at the completion of every visit. We inspire our children to take care of their oral hygiene with our Cavity-Free club.
Our pediatric appointments include:
Pediatric Exam & Cleaning
Digital X-rays
Fluoride Treatment
Proper Brushing & Flossing Instruction
Call today to schedule your child's pediatric exam and cleaning.

Sedation Dentistry
Anxiety over dental visits is natural, and we know that many of our patients experience this anxiety. But we want you to feel comfortable and relaxed while you're in our care, and to help, we offer sedation options for our nervous patients.
Nitrous Oxide
Also known as laughing gas, nitrous oxide creates a feeling of heightened relaxation in patients. Patients are awake during their procedure, but the gas helps them stay calm while we work. Breathing pure oxygen for just a few minutes easily reverses the effects of nitrous oxide, so you can safely drive yourself home.
Oral Conscious Sedation
For patients with moderate to severe dental anxiety, Somers dentist Dr. Gianna Ferranti, DDS offers oral conscious sedation. We will carefully prescribe you a pill to take prior to your appointment. By the time you're in the dental chair, you'll be relaxed and completely at ease. If you'll be undergoing oral conscious sedation, you will need someone to drive you to and from your appointment.
IV Sedation
Patients who have severe dental anxiety or are having more invasive work done may benefit most from IV sedation. With this sedation method, you'll be conscious the whole time, but you won't remember your time in the dental chair. We carefully monitor your sedation the whole time, too, to keep you comfortable and safe.
Contact our Somers, NY dentist office today to learn more about our sedation options.

Cosmetic Injectables: BOTOX® & Dermal Filler
"Improve the outcome of your esthetic dentistry with facial rejuvenation!"
Wrinkle Relaxer: BOTOX® Treatment
Therapeutic solutions to treat symptoms of teeth grinding (bruxism), temporomandibular joint (TMJ) pain, & chronic headaches including migraines
Can be used in conjunction with your dental treatment to smooth facial wrinkles along the forehead and eyes, as well as correct gummy smiles. This added service compliments the outcomes of smile makeovers.
The number of BOTOX treatments/ units needed varies with each patient based on the strength of your musculature and the extent of your lines and wrinkles. We will determine the correct dosage for you individually and maintain that schedule every 4 – 6 months.
How does it work?
BOTOX is shorthand for Botulinum Toxin Type A. This neurotoxin works by (temporarily) paralyzing the muscles under the skin so that it cannot contract, and decreases the appearance of fine lines and wrinkle. There is no loss of sensation in this treatment. This process takes 5-7 days and by two weeks you will see significantly smoother, softer skin with reduced lines and wrinkles.
How long does it last?
BOTOX is a temporary treatment and will last up to about four months.
What can I expect?
The entire procedure takes about 30 minutes and there is no downtime after BOTOX treatment. You may experience some mild swelling and redness at the injection sites that will dissipate within 2-3 hours. Some bruising is possible.
Dermal Filler Treatment:
As we age, the body loses volume due to decreased collagen & hyaluronic acid synthesis- leading to saggy, drier, wrinkly skin. Dermal filler, or synthetic hyaluronic acid (HA), restores the volume loss and creates definition.
Dermal filler can be used to create fuller lips or modify the lip line, enhance the shape of the chin and jaw, or improve facial asymmetry.
Somers Smiles uses Revanesse® products as their HA has cross-linking technology that integrates more seamlessly into the patient's own tissues. This creates a natural looking result without bumps, and less migration. Revanesse® also contains lidocaine, a local anesthetic that reduces discomfort during and after treatment.
How long does it last?
Dermal filler is also a temporary treatment that will dissolve on its own, but can last up to two years. HA stimulates the production of collagen & leads to firmer, tighter skin in the deepest layers.
What can I expect?
The entire procedure takes about an hour. Afterwards, you'll avoid touching or moving the area, as well as strenuous activity. You will likely experience some bruising and swelling that is normal and will improve within 4 days. The filler will settle in 2-3 weeks for your final result.
Contact our Somers, NY dentist office today to learn more about our cosmetic injectables options.